Patrick Festy has been a researcher in the field of demography at INED (French institute for demographic studies, France) since 1969. He succeeded Roland Pressat as head of the research unit in 1991 and managed the institute between 1995 and 1998. From 1992 to 1995, he was the editor-in-chief of the journal Population. Festy retired in 2010 and has acted as an emeritus since then.
Festy contributed to the Generations and Gender Programme in various capacities after the idea for it first arose in the 1990s. First, he conducted two evaluations of the predecessors of GGP since the 1970s, in particular the Family and Fertility Surveys (FFS), for the European Commission (DG Research) and for the United Nations Economic Commission for Europe (UNECE). Second, he was a member of the advisory group animated by Miroslav Macura that suggested the Population Activities Unit (PAU) to launch a new comparative project in line with the previous multinational operations coordinated from Geneva. Third, on behalf of INED, Festy organized the first GGP Consortium meeting in Paris.
"2000 was a crucial year for GGP. The discussions between us were tense: A meeting in July was considered as "the most difficult event (…) that we at the PAU had ever organized". The request for funding was rejected by the European Commission. Nevertheless, a consortium was organized, the programme was decided and it was launched."
During the first wave of activities, Festy coordinated the group charged with the elaboration of the contextual database. He transmitted the leadership of this group to Martin Spielauer in 2003. Festy stepped down from the Consortium Board thereafter.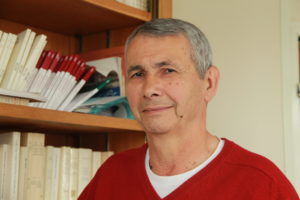 Patrick Festy on the importance of the GGP in 2000, today, and in the future:
"The GGP was an extremely ambitious project combining a multiplicity of approaches (cross-section and panel, micro and macro), extensive geographical coverage, thematic diversity associated to all stages of the life cycle, etc. After twenty years, most challenges have been overcome and the renewal of the programme will confirm its status as a European infrastructure in social sciences."
Click here for more information on the first GGP Consortium Board meeting in 2000 and other founders of the GGP.